Now begins the #TWDLiveTweetReview for
The Walking Dead
s6ep4
"Here's Not Here"
.
The social experiment plot thickens and lumps up like pea soup while victims all over the world struggle with the quantum quagmire that is Glenn, and the debates rage out of control like wildfires over the weaker viewers pulling back into their safety bubbles, looking at the flowers and chanting as they pull daisy petals out- "He's alive".
"He's dead."
"He's alive.
"He's dead."
Our little gang was no different. What you are about to see in this panel is the tight coil of a wound up week about to spring, and deep down I knew the writers were getting us ready for another Bethisode-style angst-and-bloodbath holiday season. If you are not a twitter user, remember that feeds read from the bottom up.
This next one clicks back into the convo so you can read it from the top down, in case you want context. It's pretty rare that I rev up like this before a live tweet.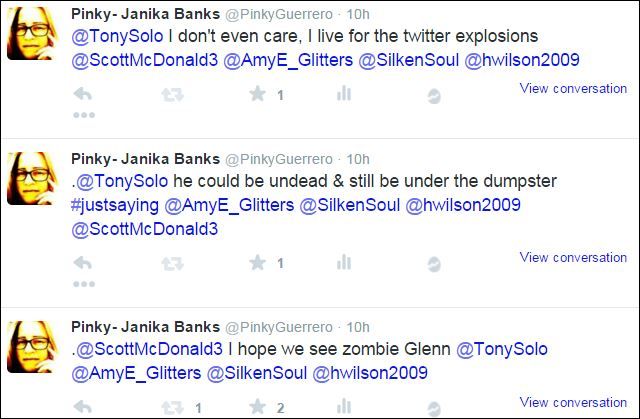 I saw this little guy
everywhere
. Remember, pic snips click back to sources.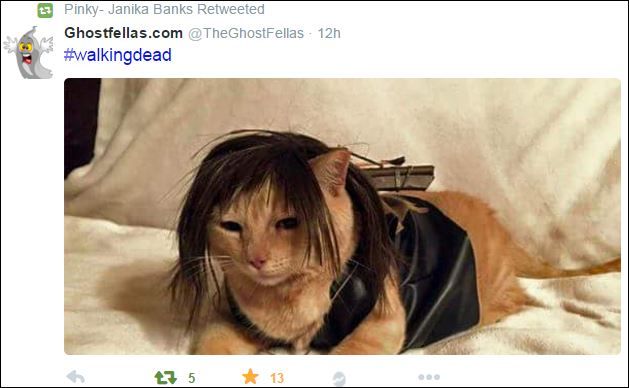 Holly is my favorite, she really knows how to play the twitters.

Going back through these, major facepalm, I know how things look totally different in print sometimes. We were still on the Glenn alive vs dead thing (this next one clicks back into convo for context), and I should have worded it "Fans cheer, Tony bails". We're not cheering
IF
Tony bails. Very awkward faux pas there. But he wasn't alone, I saw loads of hardcore purist fans threatening to stop watching if they find Glenn alive.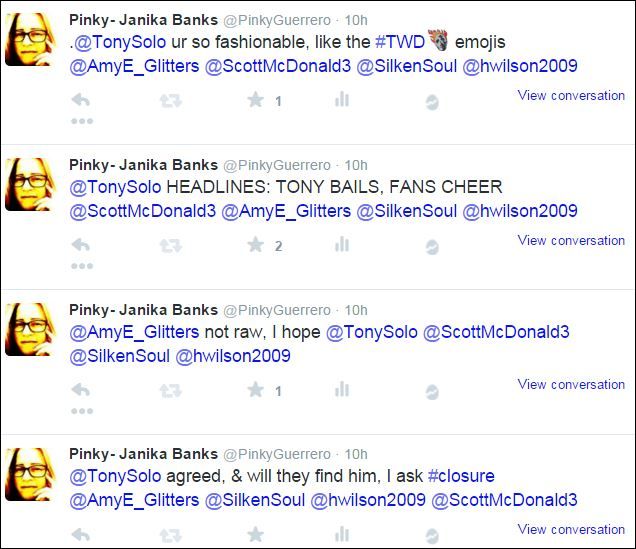 *feels*
I honestly don't know how pregnant people can watch TWD at all, Amy is pretty awesome.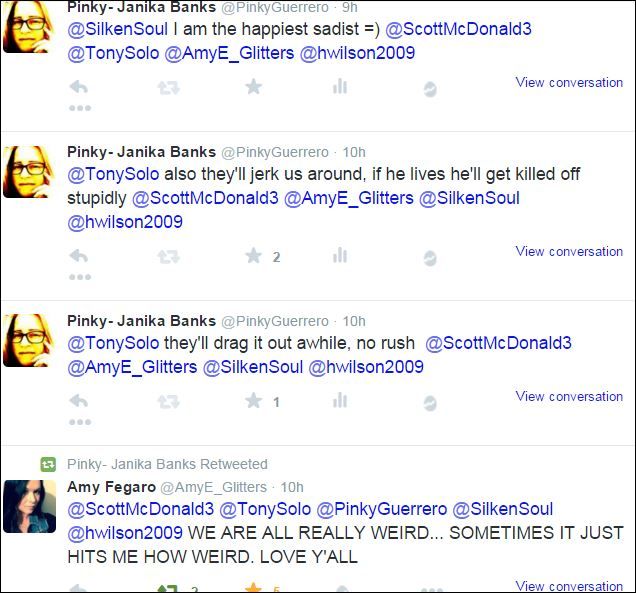 Tony throws down.
This is the best use of Chuck Norris since Jack Bauer. Click out to see the full pic.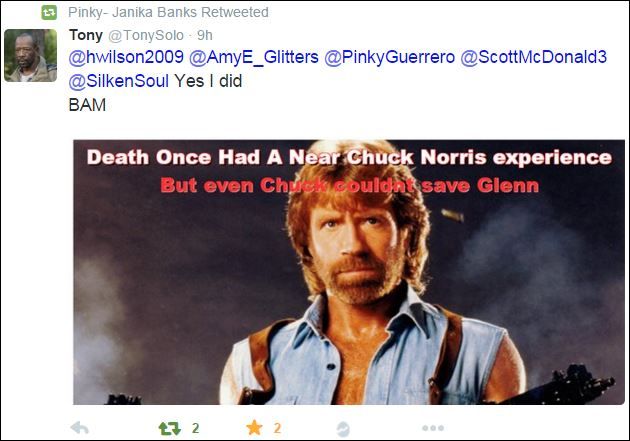 I really do believe TWD viewers are part of a new cutting edge in entertainment merch and scheduling. The social psychology of this whole series keeping viewers addicted and talking across social media almost continually is, in my opinion, North America's only chance against BBC leading with
Doctor Who
world sync.
Just saying
. The whole
#UnderTheDome
thing refers back to
#SnarkalecRadio discussions
. Again, this next snip clicks back into the convo if you need context.
So you guys remember how 'Bethisode' was coined? I think
Emily Kinney
was the first to actually tweet that word, which I think I captured for posterity way back in this review somewhere. Anyway, I'm wondering what equivalent coinage Glenn might get when his big last show comes up, unless they just never discover him and we get flashbacks or whatevs before he drops off the map. I mean, 'Glennisode' just doesn't have the same cool ring to it, does it?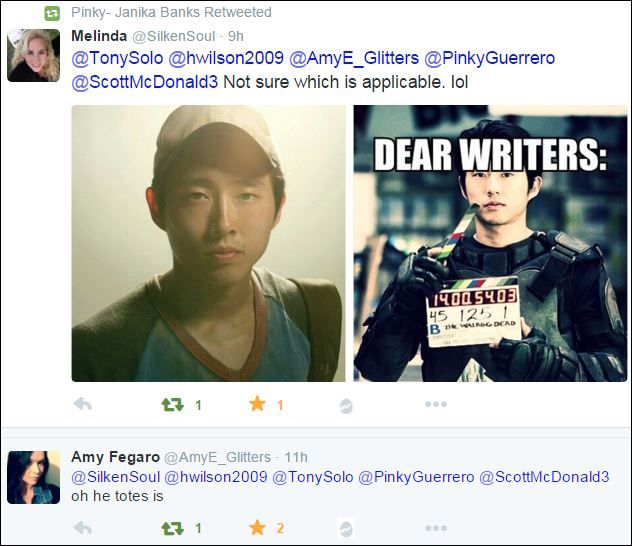 Clicks back, etc.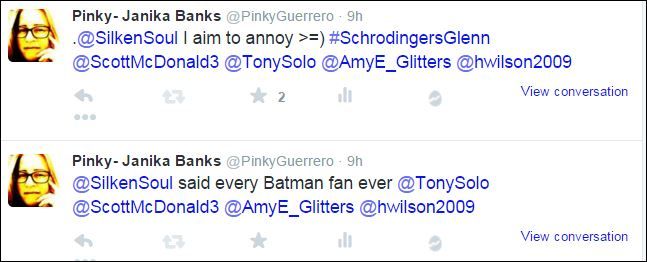 If you're new to this review thread, I get 10 graphics per panel, and
I tweet links
as every panel gets done. I've never done a panel quite like this one before, so don't worry, the whole review isn't my head floating across the page clicking back to convos. Keep your eyes peeled today, thanx to the psyche-fest lasting 90 minutes, we've got a long way to go.