From 5-21-13
Stargate Pie
I've got a bit of a meringue obsession going this year, since I've had so many eggs coming in from the new hens. Organic eggs around here easily cost $6 a dozen, and at first I hoarded my eggs like gold, but after they piled up and took over the refrigerator last fall, I found lots of ways to play with them. We don't eat a lot of sweets in this house, but we do like chocolate pie. There is only one cup of sugar in the whole pie, and meringue is really good for protein, so why not? About once a month I have a little fun with it.
This post isn't about chocolate pie itself, but in case it makes you hungry for one, here's the recipe I use. I just buy premade piecrust, cook and cool it ahead of time. The pie part is a very thick pudding, for which I use a stainless steel saucepan and a wooden spoon. It's quick and easy, but you can mess it up. I've thrown out puddings and started over a few times because I'm so easy to distract, but it's a cinch to start over.
First thing you do after you bake the crust is separate your eggs, yolks into a small bowl, whites into a bigger bowl to use with a mixer. Be prepared to waste a few eggs if you're not very good at separating eggs, perhaps keep a third bowl nearby for scrambled eggs later. I like using my hands, and it's messy, so put paper towel down on the counter to set the shells on and hold the drippies at bay, scoops up so easy when you're done. Cream pie recipes call for different amounts of eggs, this one originally only called for 3, but I find it holds better with 5, and also bumps up the protein value in your pie. Try not to get any yolk in the whites bowl, and keep the yolk bowl as free of whites as possible. If a yolk breaks and everything goes wrong, that's what your third bowl is for if you can't bear to throw away eggs, you can use those later for breakfast.
In your saucepan put 1 cup of sugar, 1/3 cup of flour, 4 T of cocoa, and 1/4 t salt, stir all that up till it looks sifted. Slowly stir in 1 cup of milk, doesn't have to be perfect, just make sure it's all wet and there aren't any big dry lumps lurking at the bottom. Turn the heat on medium. This bit is important. Don't go higher than medium (tempting if you feel impatient) because milk scalds so easily. Stir, keep stirring, keep the bottom from turning into a super thick sludge while the top stays runny. The key is to keep it all the same consistency while it cooks, keep the thickening up as homogenized as possible.
It really doesn't take long for that to thicken up and start to 'glop' in a weird thick 'boil', at which point remove it from the heat and keep stirring for another 30 seconds till it settles down so it doesn't burn at the bottom. I'm right handed, so with a fork over my yolk bowl on my right and the spoon over the pudding pan on my left, I drizzle little bits of pudding into the yolks while I quickly whisk them with the fork. It's like walking and chewing gum at the same time, you get the hang of it. You have to keep the yolks moving so they don't have a chance to 'cook' and lump up like scrambled eggs. Heat denatures protein, breaks the molecular bonds and makes them change shape and get stiffer, so to keep the yolks more liquidy, keep them moving. All the chefs on the food channels will tell you this is tempering the yolks, and that only means bringing up the heat slowly so you can control their texture, so next time you hear that word, you'll know what it means. Whisk in several spoonfuls of the pudding till the yolks are all chocolaty looking, then pour the bowl of eggs into the pudding pan while stirring quickly with the wooden spoon. If you get egg lumps, either get them out or throw this all away and start over. Cream pie with scrambled egg lump texture is kinda gross.
Put the pan back on the heat and keep stirring. The gloppy boil will happen a lot faster this time, and you don't want it happening very long at all, just make sure it gets good and hot for about a minute or so while you stir, then take it back off the heat and stir in a T of butter and a splash of vanilla. Pour it all into the baked pie crust and set aside.
All this just to get to the meringue.
Meringue is very temperamental, especially if you live in an area that is the least bit humid, but so what, it's still fun to eat and pretty on a pie. They say meringue works best if the whites are room temperature to start, but I haven't found any difference. Most recipes call for 1/4 t of cream of tartar in the whites before you start mixing, some use a dash of vinegar, some don't use either, but if you want to delve into experimentation-
How to make the perfect meringue | Life and style | guardian.co.uk
But back to having fun! I use cream of tartar, I think it's more reliable and doesn't make it taste funny. Also I splash in a little vanilla, yum! So 5 egg whites, 1/4 t cream of tarter, 1 t vanilla, and set your mixer on a pretty decent speed. You'll be standing there a few minutes, and it will seem like forever because you're not doing anything else, but it still goes fairly quickly. Since I've been playing with meringue so much, I also add food coloring gel at the start, this time I squirted a gob of blue gel in. For those of you who have never made meringue, the rest is in pictures so you'll know you're not epic failing if you don't get that pretty fluff right away. Most recipes don't mention the nerves you get wondering if you're doing it right when it doesn't look at all like a picture in a book.
Starting out it looks kinda like jello, doesn't it? When you don't put food coloring in, you still get this pretty froth going, that that is what you watch, the froth. It changes as you go, and once you've done this a few times, you can get pretty good at gauging how far into the whipping process you are as the froth changes. Right here it's very liquidy.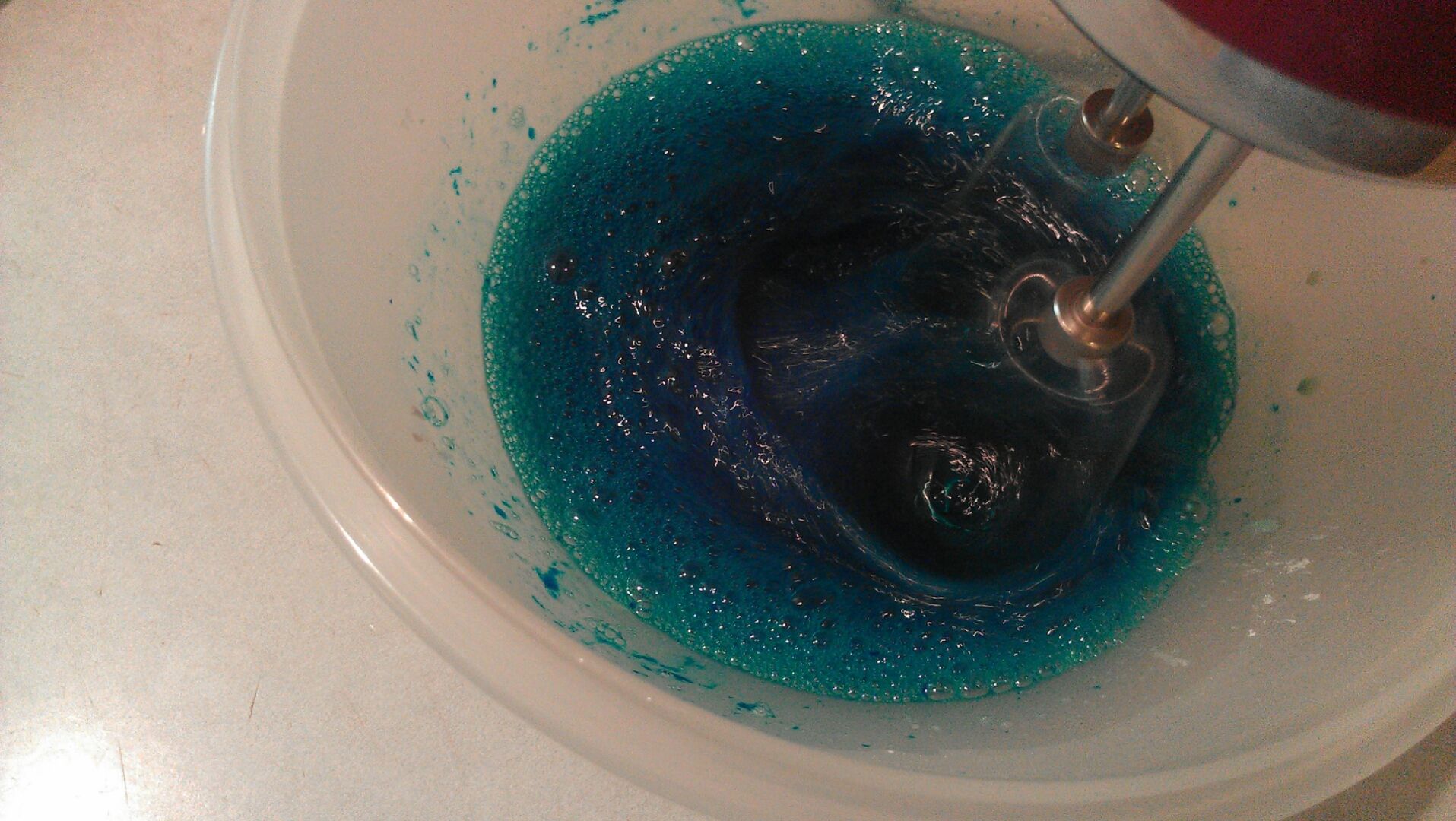 It doesn't take long to look very bubbly, the way coke does when you first pour it into a glass over ice. As you work more air into the froth, the color will lighten up.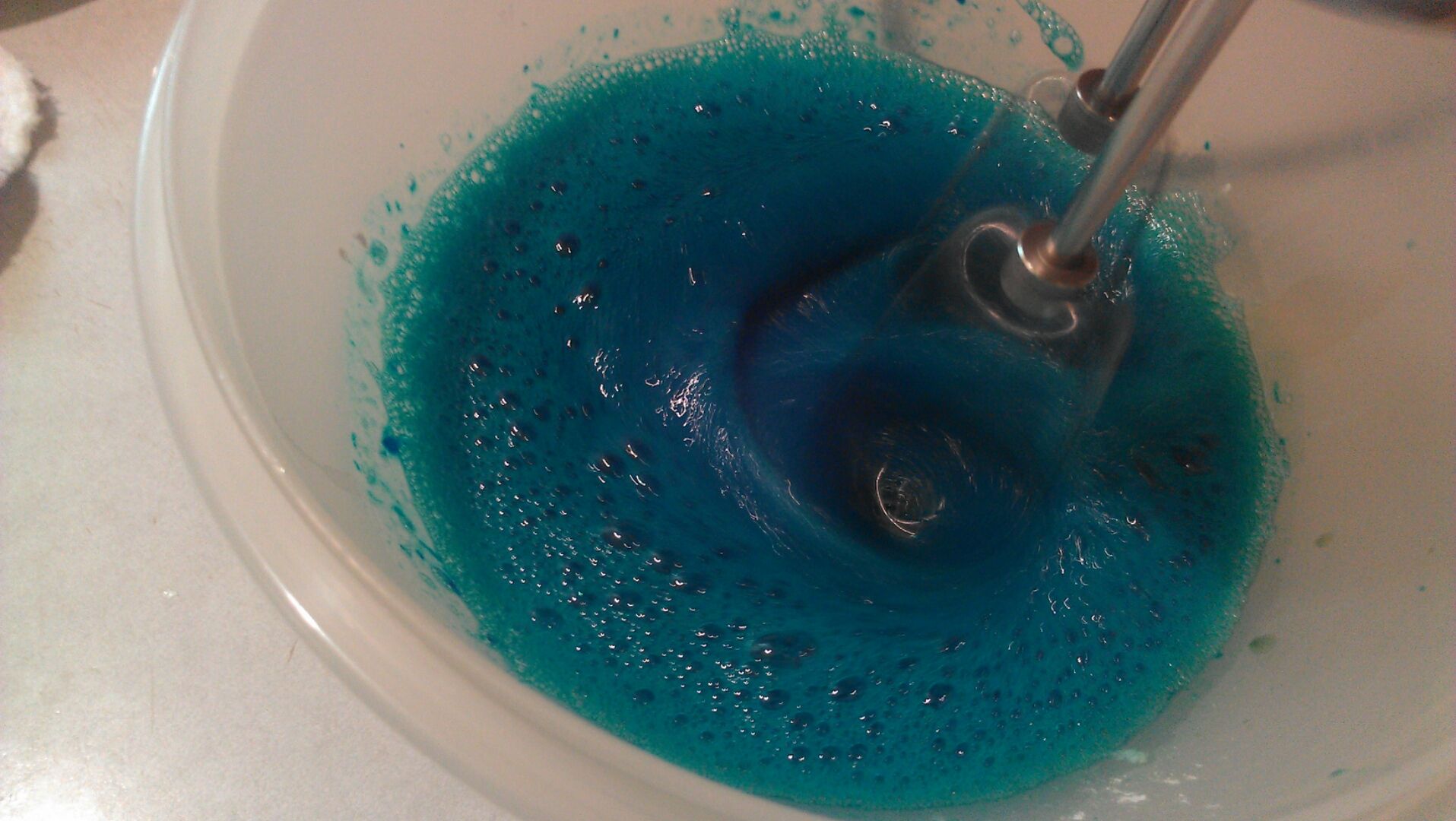 This has become almost pure foam, but will quickly fall apart and melt back into a more liquidy form if you stop and leave it alone.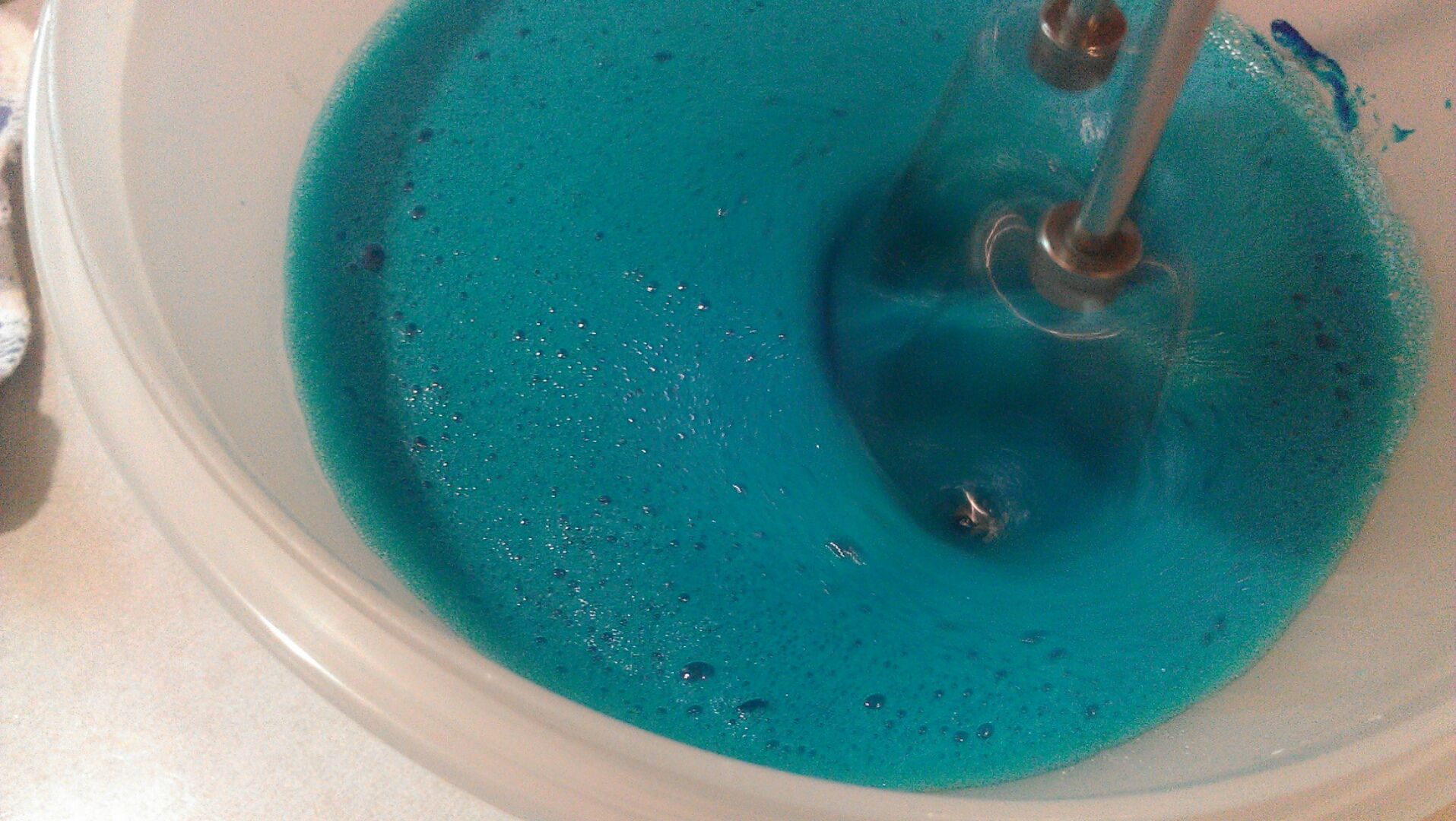 Notice how we're getting 'waves' now that have the illusion of looking thicker.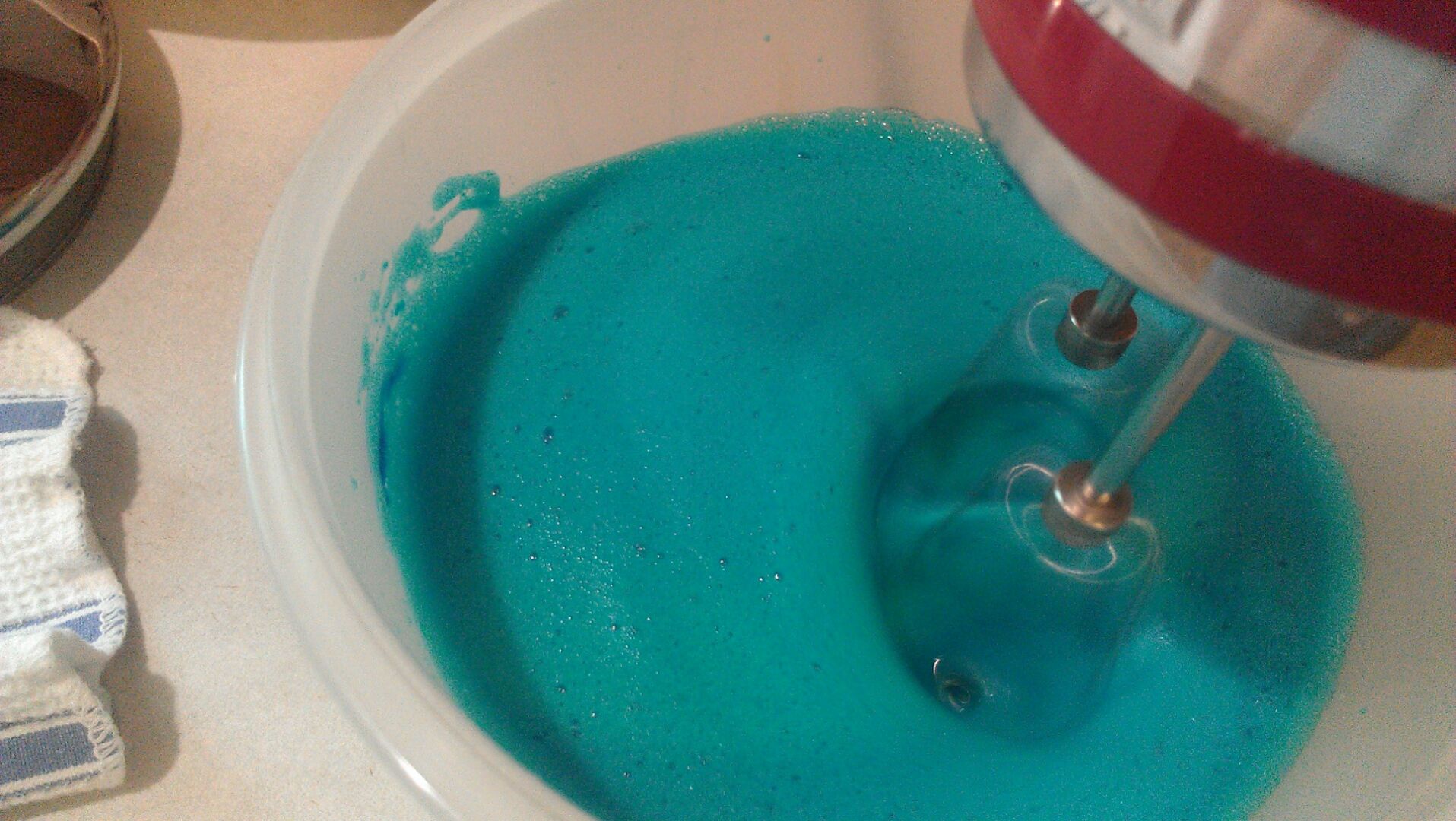 And thicker. When the waves start holding their shape, you've almost reached the 'soft peak' stage.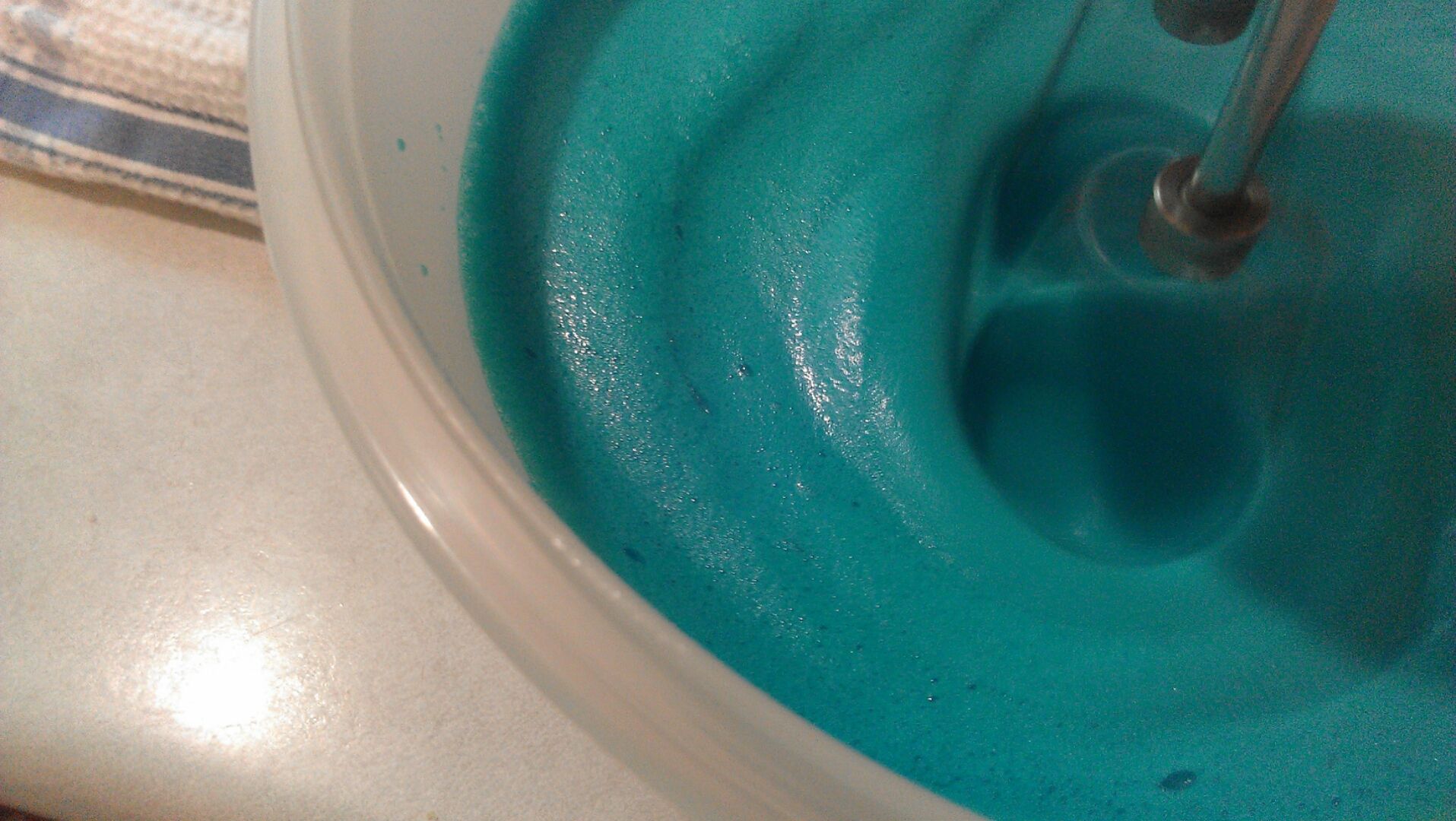 Which looks like this, soft peaks that hold their shape when you stop. You'll see why they're called soft when you reach the stiff peak stage. At this point stop and get your sugar and then stir whipping it in a tablespoon at a time. You don't need to add extra sugar when you use a couple more whites.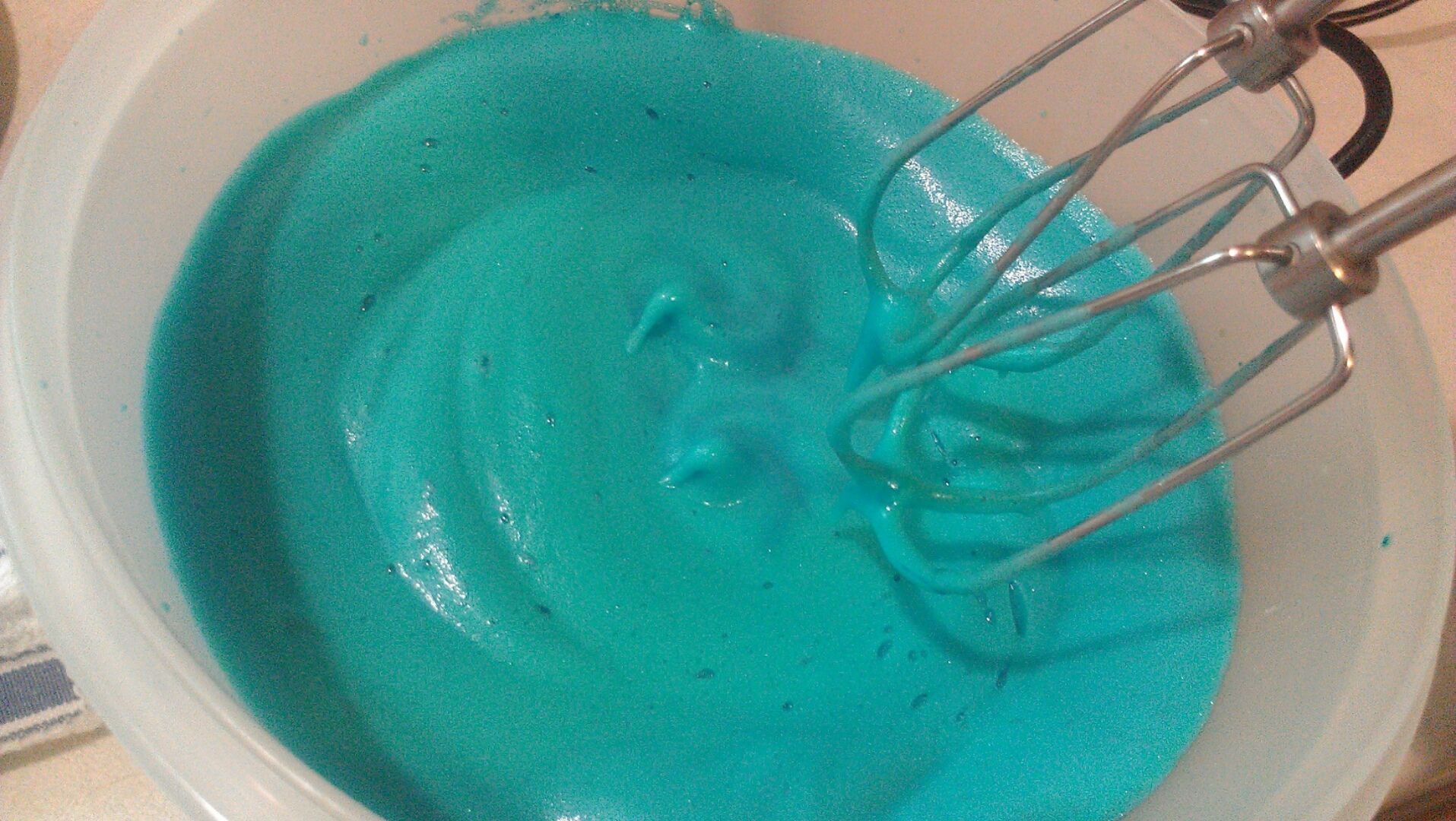 The sugar helps the froth smooth out into a glossy fluff. Keep going for a bit.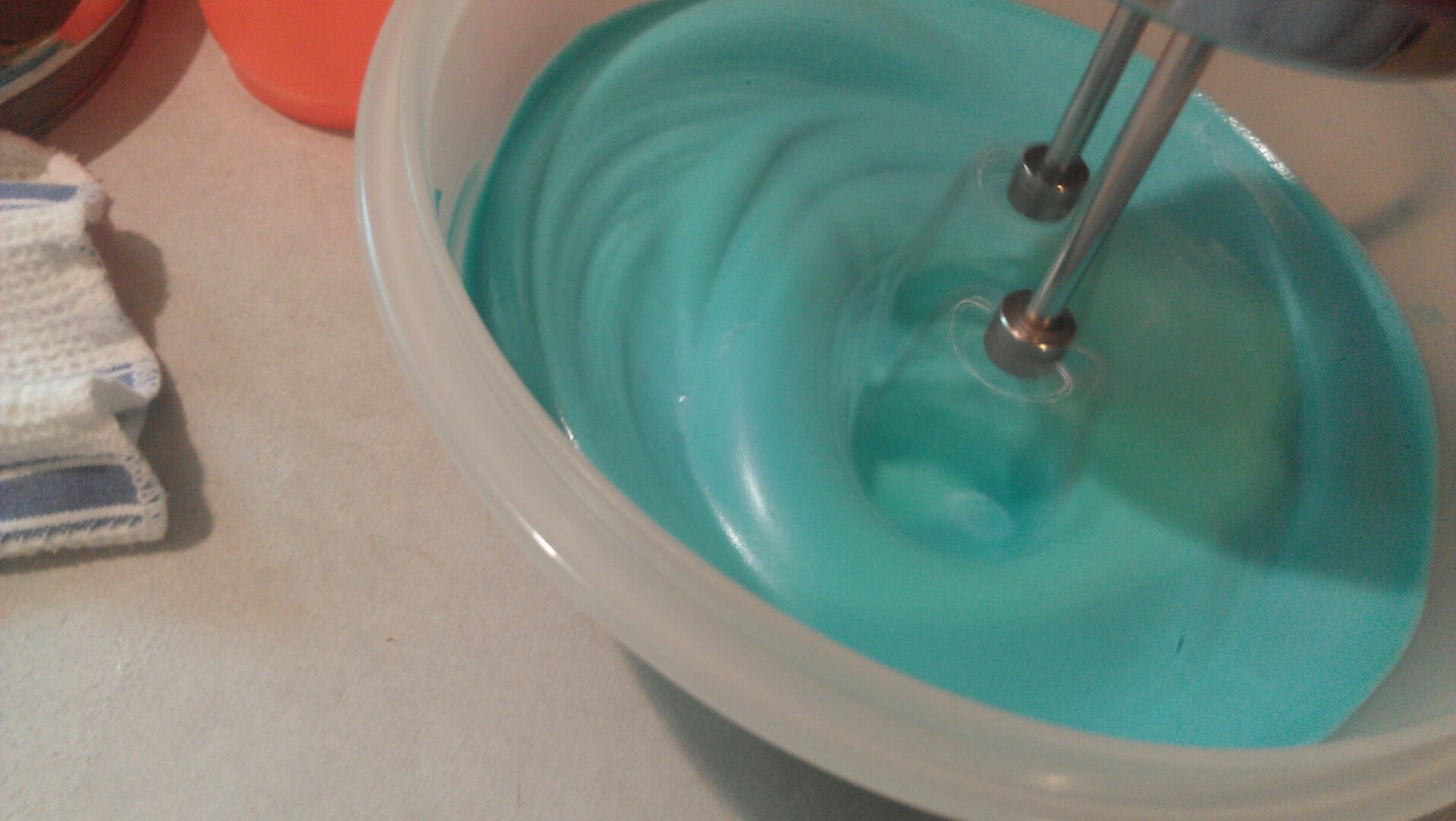 These are stiff peaks. When your froth has finally turned into something that looks like marshmallow creme and holds a really good shape when you stop whipping, you've finally made meringue.
There are many things you can do with meringue, but this one is going onto a pie.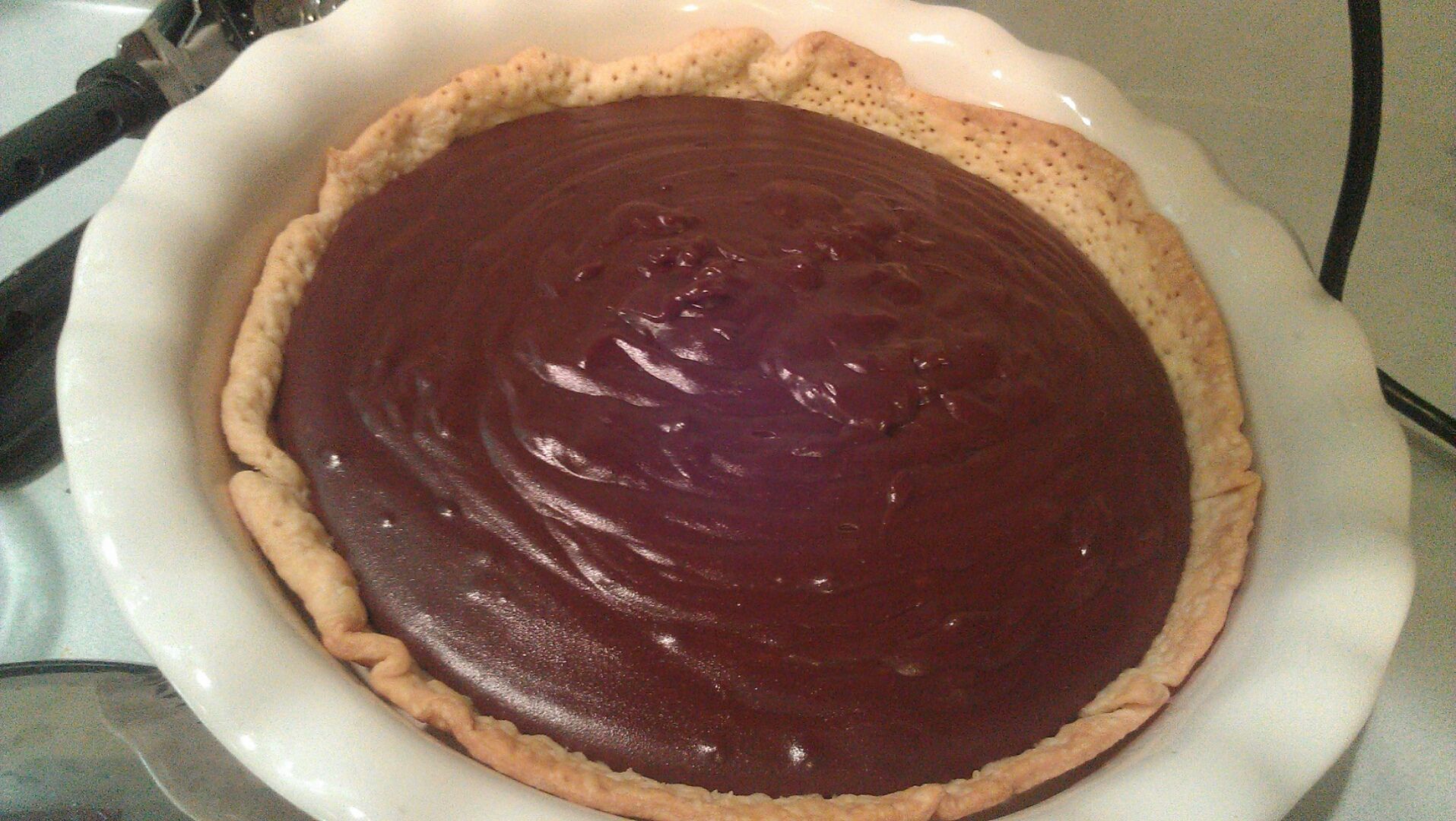 I get so bored with the same old meringue, I started playing with shapes and colors this year. Maybe in a few months I can make something really super cool. But for now, I've got the basics down well enough to play with shaping waves. This seems to be turning into an activated Stargate portal.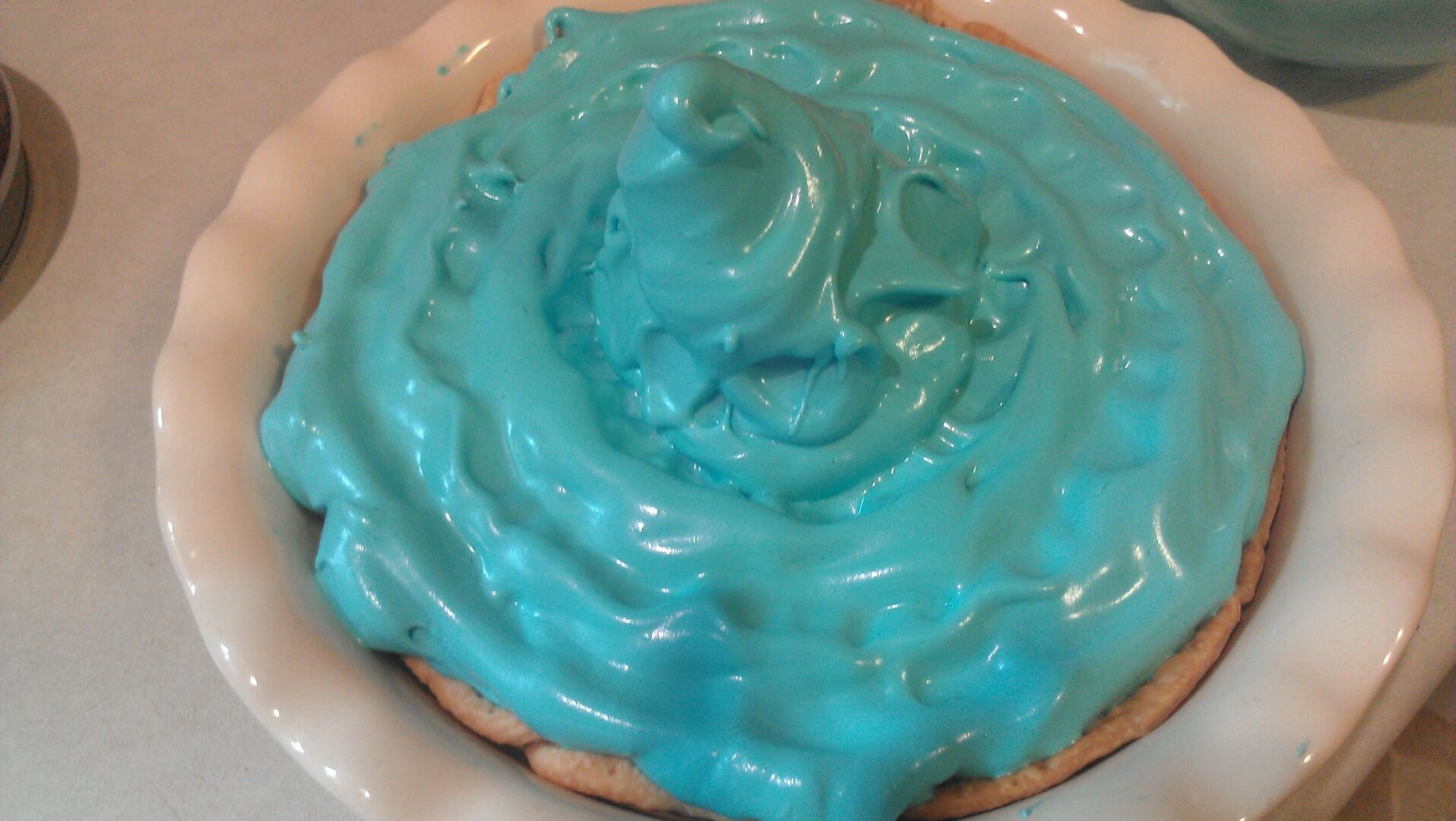 Bake your meringue in a preheated 350 degree oven for *about* 15 minutes, you really need to keep an eye on it because once it starts to brown, it can go black kinda fast, just like a marshmallow over a campfire.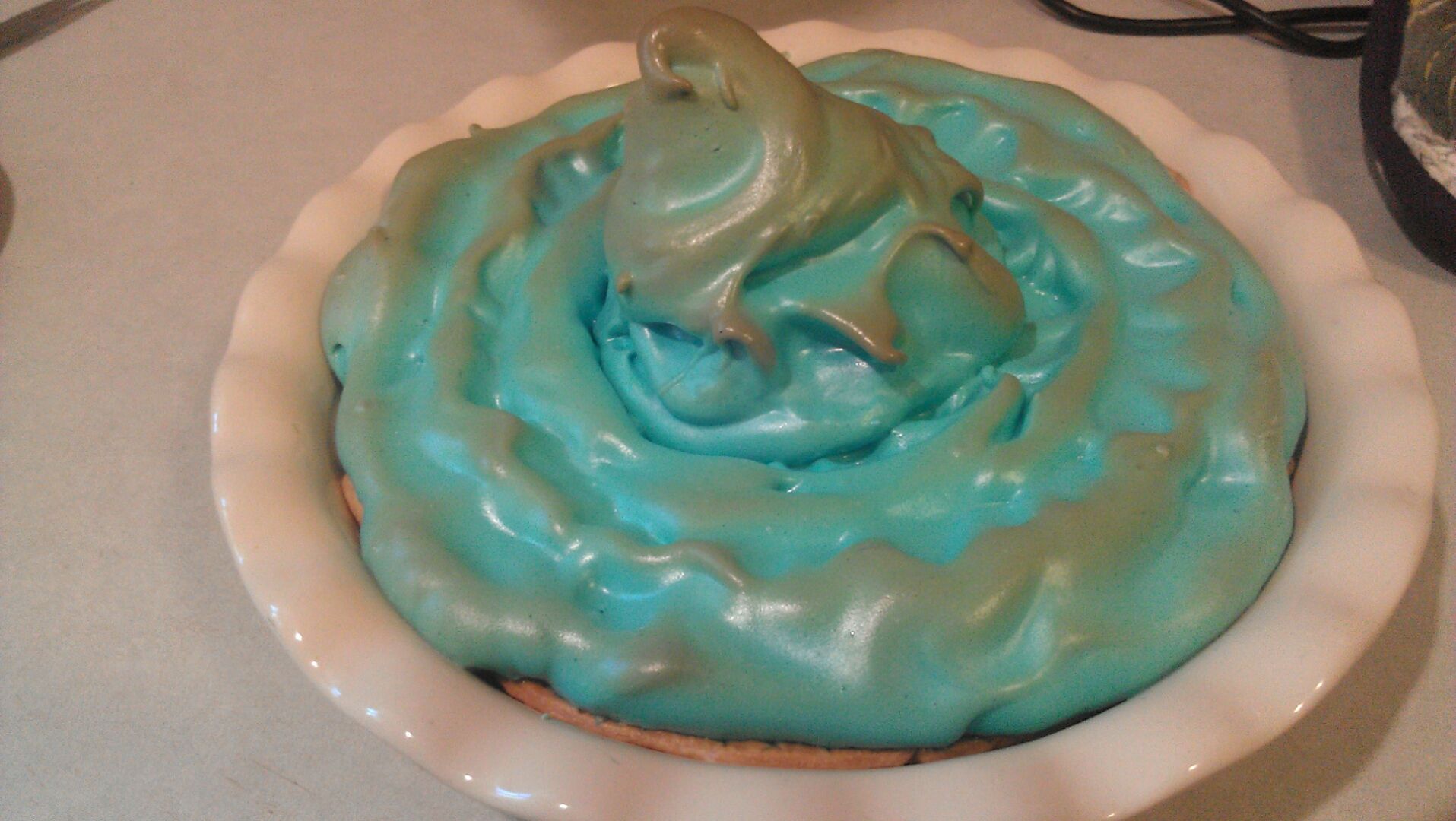 Sometimes your meringue will 'weep' back into the pie. Not to fear. It's liquid sugar and doesn't spoil a thing.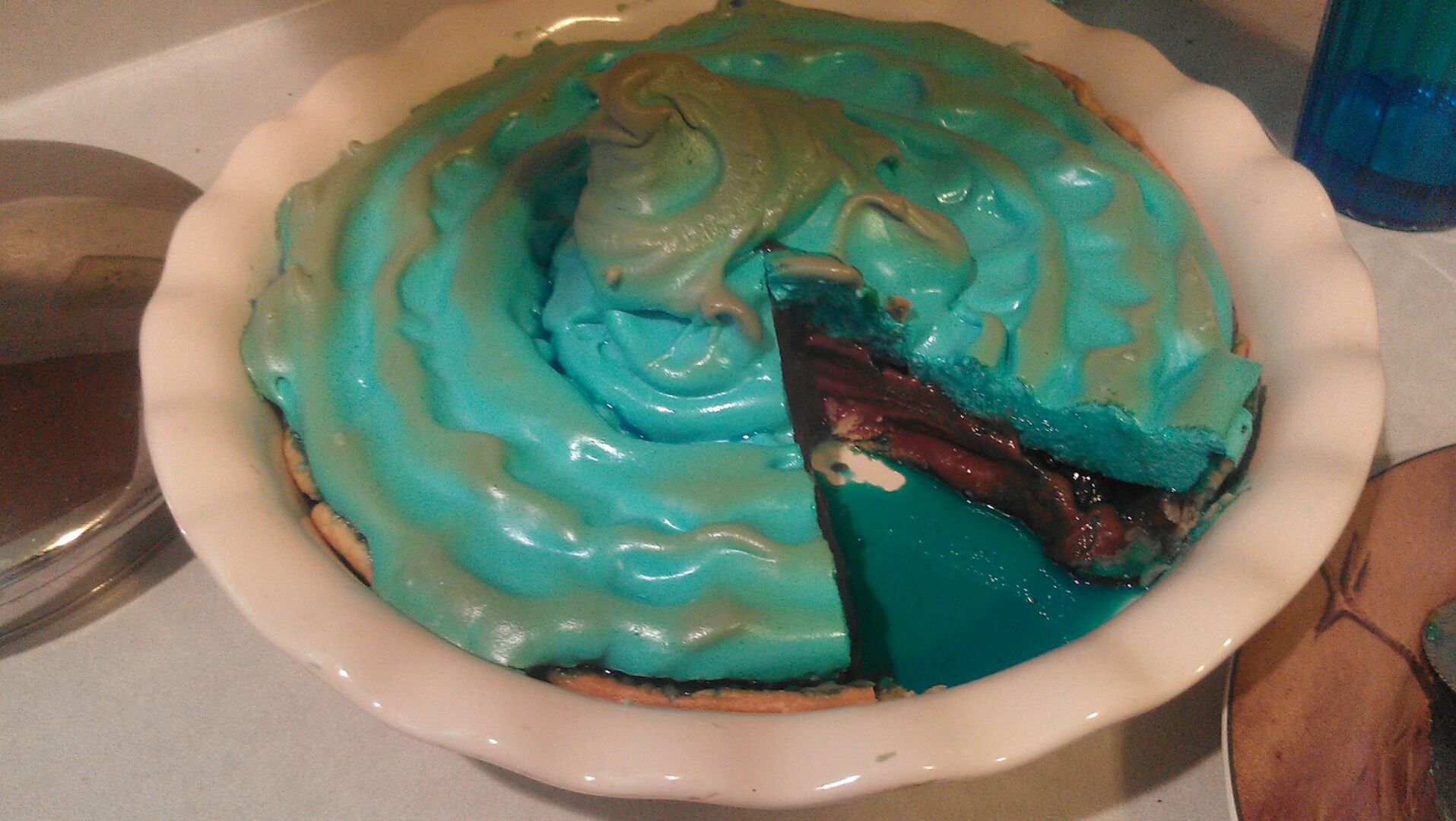 Question from the original comments- There is one question I have about all this. Because I tried making them last week and flunked. I was using diabetic sugar. Do you know how much less you use in it? At least I think you use less. Thanks for the information. Bro. Doc
My answer- I have never tried using anything other than granulated sugar, but I found someone else who has gotten the hang of it at
Sugar-Free Meringue Recipe