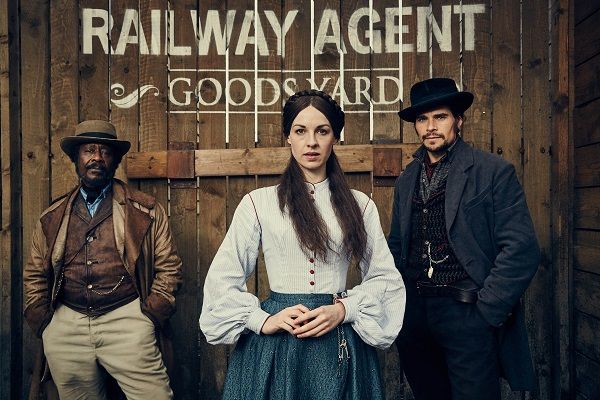 This pic clicks to source.



This thread is for the 2016 UK series Jericho, which aired in January and February of this year on ITV. A second season won't be commissioned, and I'm not seeing purchase information on amazon or whether this series will air in the United States.

:EDIT: One of the actors, Diddy Wheldon, has alerted me to Jericho being available on both Amazon streaming and Zavvi. Hard copy is still region 2 only, so if you are on the American side of the pond, you'll need a converter player if you order that.

Jericho is a mini-series based on the Ribblehead Viaduct construction, but retold as a fiction story about a little construction town called Jericho springing up around the Culverdale Viaduct in the later 1800s. The series focuses on a transient time period to imagine the ways in which local people caught up in this particular wind of industry change were affected, and how their society may have struggled to adapt before collapsing.

Jericho is an ITV Studios Global Entertainment production, and the date on this particular link is 9-3-16, but I don't know what that might mean. You will need an account to view the shows, the first one is 90 minutes and the other 7 are 60.

Jericho was written, created, and executive produced by Steve Thompson, who has also written for the Doctor Who and Sherlock series, among a notable list of other shows. Its three directors were Paul Whittington (eps 1 and 2), Robert McKillop (eps 3, 4, and 5), and David Moore (eps 6, 7, and 8), which I suspect may be a partial reason for the somewhat shaky reviews. All are seasoned directors, and filming naturally moved between set locations at Huddersfield and Colne Valley in West Yorkshire, England.



This thread will review each episode of Jericho independently. This thread is not intended to be a recap experience, but an introduction to the set locations, period costuming, story telling, and the actors telling the stories.



Neither I nor SyfyDesigns receives compensation for anything written in this thread. As we go along and questions arise, questions may be answered in following threads, as I have permission from one of the actors to ask as many questions as I want. Viewers who are interested in time period documentaries and docu-dramas will appreciate the biographical style of what living with railroad construction in the 1800s was like. I personally think Jericho is great viewing with a notable cast, which I'll link as we go along, and I'm sorry it won't be getting a second season. I do hope it will be broadcast on a U.S. network, but just in case it won't be, I know a few Americans who would love to know and see more about this show, so I'm sharing.


I'm still working on the episode reviews. In the meantime, please check out this trailer.